TOURIST ACCOMMODATION
Tawow Lodge Ltd, Herb Lake Landing MB phone: 204-358-2485
Bluenose Bed & Breakfast, Snow Lake, phone: 204-358-7305
Burntwood Lodge, Burntwood River, phone 204-358-2259
Diamond Willow Inn & Willow House, Snow Lake, phone 204-358-2842
Lakeshore Bed & Breakfast, Snow Lake, phone 204-358-6501
Snow Lake Motor Inn, Snow Lake, phone 204-358-2151
Sunset Bay Bed & Breakfast, Snow Lake, phone: 204-358-2145
Wekusko Falls Lodge, at Wekusko Falls on the Snow Lake highway (392). phone 204-358-2341 This is a great place to stop for ice cream on the weekend.
CAMPGROUNDS AND PARKS
Wekusko Falls Provincial Park: There is both campground and day park areas. The park is situated close to the roadway where the Grass River flows into Wekusko Lake at a waterfalls. One of the main attractions of the park is the suspension bridge across the falls. The park is located on the Snow Lake Road, Hwy 39. There is a trailer sanitary station.
Grass River Provincial Parks: There are three provincial parks on Hwy 39, Gyles Campground on Simonhouse Lake, Iskwasum Campground between Iskwasum and Louck Lakes and Reed Lake Campground on the south shore of Read Lake. The campsites are unserviced but feature solar heated showers, outhouses and handpumps for drinking water.
Pisew Provincial Park: Thompson. Overnight camping is not permitted, but there is a picnic area for day use. Pisew Falls is Manitoba's second-highest waterfall with a drop of 13 meters. There are platforms along a boardwalk for viewing. It is located on the Thompson Highway, Hwy 6 about halfway between Thompson and Wabowden.
Paint Lake Provincial Park: Located 32 km south of Thompson on Highway 6. It has both basic and electrically serviced sites, modern bathrooms and a trailer sanitary station.
MUSEUMS
Snow Lake Mining Museum: Plan to visit the Snow Lake mining museum which is open during the summer months. There are many early mining artefacts for viewing, some from the ghost town of Herb Lake.
The Sam Waller Museum: This museum in The Pas, is an interesting place to visit.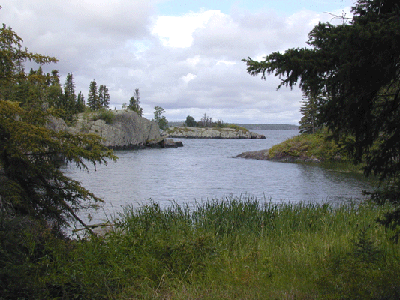 Hale's Landing, Wekusko Lake
Photo: Linda Butler