ARTS AND CRAFTS
Herb Lake Landing has an active arts and craft community and workshops are often held in the Seniors Building. During the summer months, the seniors get together periodically to work on craftwork and to share ideas. New participants are always welcome. Some of the hobbies enjoyed by the residents are: oil and acrylic painting, beading, diamond willow carving, and traditional Native crafts.
DIAMOND WILLOW HIKING POLES: In June 2010 the residents took part in a 2-day workshop to learn to make diamond willow hiking poles. Diamond willow is found in the area and the diamond shape of the imperfections in the wood create a unique product. The willow sticks are harvested in the spring, the bark peeled and the wood left to dry. When the wood has dried enough to work, the diamonds are worked with power tools and enhanced, then the sticks are sanded and varnished.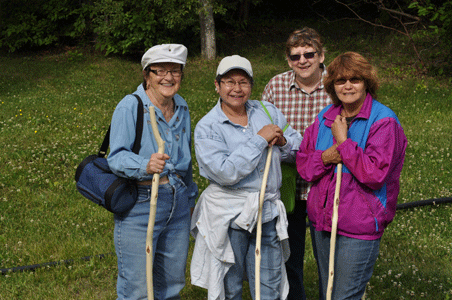 Hikers carrying the diamond willow hiking poles made in the 2010 workshop.
Photo: Cindy Shapka
DREAMCATCHERS: A workshop was held in Oct 2010 for residents to learn to make dreamcatchers and other Native traditional and decorative objects.

Emily Crosby, in the 1980s, started the Northern Arts Center at Hale's Landing. She was a well-known artist who did much to promote art throughout Northern Manitoba. She welcomed artists at her home where she taught weekend workshops. Unfortunately, Emily has passed away but she has left a legacy of students who trained under her. Many of us in the community owe our appreciation of art to her efforts.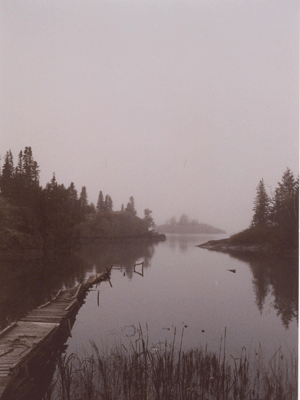 Early Morning Mist on Wekusko Lake
photo: Linda Butler