SHOPPING
Most residents of Herb Lake Landing shop in Snow Lake, approximately 55 km distance. It is approximately a two-hour drive to either Flin Flon, The Pas, or Thompson.
The Second Glance: This favorite thrift store is operated by the Hospital Auxiliary in Snow Lake with dedicated volunteers. They sell a variety of clothing, books and household items with proceeds helping support the hospital and fire departments. Phone 204-358-7500
Cornerview Family Foods: This grocery store in Snow Lake is well stocked and sells Safeway brand items. It has an excellent meat market. Look for the freshest produce when the delivery truck comes in. Phone 204-358-2928
Snow Lake Home Building Centre: The Home Hardware in Snow Lake carries a good variety of items and they will order from their catalog or internet for their customers. They have knowledgeable staff and provide excellent service. Phone 204-358-2343
NEWSPAPER: The Underground Press keeps readers up to date on the latest news. It is available in newspaper format or on the internet. Phone 204-358-2887
MINING MUSEUM: Plan to visit the mining museum in Snow Lake, open during the summer season.
GAS STATIONS:
Franals Snow Lake Service - Petrocan
Cornerview Family Foods, Snow Lake - Esso Station
Chell's Sled Shed, Snow Lake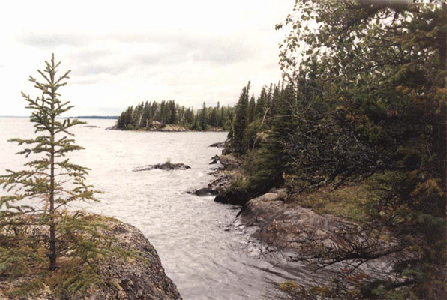 Wekusko Lake
Photo: Linda Butler