EVENTS
PIONEER DAYS
Pioneer Days is celebrated on the long weekend in August. At this time many of the residents and summer people come to the lake and there is an opportunity for neighbors and friends to meet. In 2010 the event was held over two days and in 2011 it became a 3-day event with an adult horseshoe tournament, canoe races, games and water sports for children. There was a family scavenger hunt, potluck, anniversary cake, campfire activities, pancake breakfast, Zen garden, and a Herb Lake tea. The highlight of the weekend is the "Courage Trail" where participants walk along a spooky pathway at night.
Pioneer Days 2012 will be held Saturday August 4th to Monday August 6th and it will be our 95th anniversary.
CANADA DAY
Our community celebrates Canada Day with Snow Lake and in both 2009 and 2010 we won first prize for our float in the parade.
CENTENNIAL CELEBRATION
We have taken the date of 1917 as the founding date for our community as the first gold was shipped from Herb Lake to Trail British Columbia for smelting at that time. In 2007 we celebrated our 90th anniversary and will reach our centennial in 2017. This will be a big event for us and It is not too early to plan this upcoming event and we welcome your suggestions.
Pioneer Days 2010
Click to Enlarge
Photo: Marc Jackson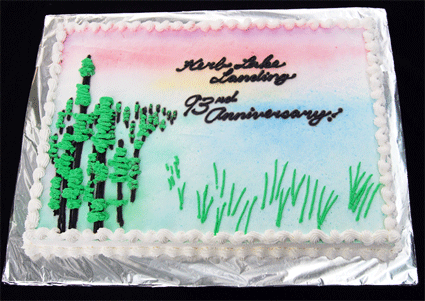 93rd Herb Lake Landing Anniversary Cake, 2010
Photo: Marc Jackson