SERVICES AT HERB LAKE LANDING MB
FIRE: There is a firehall with a truck with a 500-gallon water tank and portable equipment. There is no 911 phone service.
MEDICAL: There is an automated external defibrillator (AED) located in the firehall and local volunteers have been trained to use it. In the event of a medical emergency, call the Snow Lake Hospital.
POLICE: RCMP are located at the Snow Lake Detachment, phone 204-358-7722.
HYDRO: Manitoba Hydro provides a power line to the community. The Hydro District Office is located in Snow Lake, phone 204-358-2431.
TELEPHONE: Manitoba Telecom Services has a microwave tower at HLL and provides individual-line services from the MTS Snow Lake exchange. Call toll free at 204-225-5687.
INTERNET: Manitoba Telecom Services provides dial up service.
HIGHSPEED INTERNET: High Speed Internet is available from Commstream Communications, however their service is only available to residents on the lakeshore with a clear view of their Snow Lake tower. They cannot provide service if trees block the signal. Phone 1-866-206-3707. email: webmaster at comstream.net
SATELLITE TV: Star Choice and Bell satellite TV are available.
WATER: Residents with pumps, obtain their water from the lake. People who reside in Snow Lake usually bring their drinking water from there. Bottled water is available for sale in Snow Lake. There is a water tap in the picnic grounds at Wekusko Falls.
GARBAGE: There is a garbage dump for use of the residents. It is important that we recycle as much as possible in order to extend the life of the dump. Saleable used items can be taken to The Second Glance in Snow Lake, the Hospital Auxiliary Thrift Store. Residents are encouraged to compost their garden waste.
BURNING DUMP: Brush and building debris go to a designated spot for burning, and in the winter it is burned by volunteers.
RECYCLING: Residents are encouraged to use the recycling depot in Snow Lake for plastic, paper and tin cans. Empty beer cans can be dropped off at the HLL Senior Center and the proceeds will be used for their programs.
SANI-DUMP: There is a sani-dump for residents' use. For RV use an extra-long hose is required and there is no water to rinse hoses.
MAIL: There is twice-weekly mail delivery to HLL. There is a post office in Snow Lake.
RADIO STATION: The CBC from Thompson hosts a program by Mark Szyszlo called "The North Country Program" which airs weekdays and is a valuable source of information on northern activities.
UNIVERSITY COLLEGE OF THE NORTH (UCN): The new campus being built at Thompson is designed to train Aboriginal and northern students. It will include student housing and childcare facilities. There are two main campuses in The Pas and Thompson with satellite campuses in other communities. The Thompson campus, costing $82 million will serve the educational and training needs of the north and will make an impact on the economy of the province.
AIRPORTS: There is an airport at Snow Lake. Scheduled flights are available from airports at Flin Flon or Thompson.
RECREATION SERVICES:
HERB LAKE LANDING SENIORS: There is a Seniors hall for a meeting place which contains exercise equipment and a shuffleboard. Residents also gather for coffee and card games.
PICNIC GROUNDS: Our picnic area is used as a gathering place for activities in the summer. There is a screened gazebo which provides shelter in the summer from flies plus a firepit for group events. A flagpole and a cairn with a plaque honoring the pioneers of the area overlooks the water.
BEACH: There is a pathway to the water by Spencers' Bay to the beach and another pathway from the roadway to the beach by the cliffs. The beach is suitable for swimming as the water is shallow and warm in the summer months. Our community is on the south shores of Wekusko Lake and the predominant wind is from the North, which blows a lot of debris onto the beach. Volunteers maintain the area but help is always appreciated to keep the beach clean.
GOLF COURSE: There is a 9-hole golf course at Snow Lake.
BUSINESS SERVICES:
Tawow Lodge, Herb Lake Landing, MB phone 204-358-2485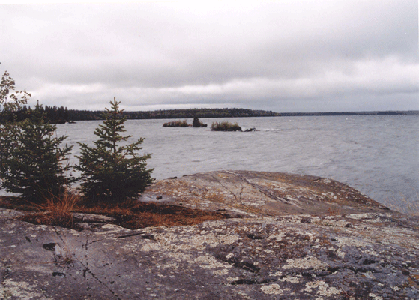 Wekusko Lake
Photo: Linda Butler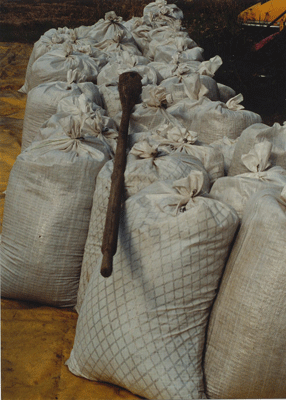 Bags of Wild Rice harvested from the Herb Lake Landing area
photo: Linda Butler